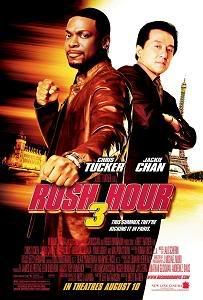 Synopsis:
While in Paris, Lee's (Jackie Chan) latest assignment is to escort and to protect Chinese Ambassador Han as he delivers a major address before the World Criminal Court Summit in Los Angeles. While delivering his announcement, he is shot and nearly killed. Meanwhile, former LAPD Detective James Carter (Chris Tucker), who has recently been demoted to a traffic cop just happens to be listening to the radio when the tragedy occurs. He rushes to the scene to help, but instead interferes with Lee's pursuit of the culprit. To get his status back, Carter teams up with Lee one more time to help track down the assassins. With the trail leading to Paris, both will find themselves in unfamiliar territory. The two will be forced to fight the French police J Moser, the Triads, and foreign culture if they are going to solve the mystery in time.
Director: Brett Ratner
Cast: Jackie Chan, Chris Tucker, Vinnie Jones, Roman Polanski.